Introduction
Having a companion to help you on your quest always make it seem easy, small, and achievable. Guess what! You'll be having one such companion on your quest to learn 'the art' of programming. Ready to find out who it is?
Meet PictoBlox (Scratch): a visual programming language that helps budding programmers, like you, to learn how to write a program in a fun, educational, and easy way of using blocks. This makes learning coding nothing but a jigsaw game that helps develop problem-solving and decomposition skills.
Installing the Software
To get to know your companion up close, and embark on your journey together, you have to, obviously, meet up. Let us do the honors of arranging a meeting; all you have to do is follow our instructions.  Follow'em carefully!
EXPLORING 'THE RESTAURANT' 
Whenever you select a new restaurant or any other meeting place, it is natural that you explore the place, and check out how it looks, the different things it has, the services it provides, etc. So why be any different with PictoBlox? It's no less than a newly opened restaurant in your locality!
As you enter PictoBlox, you'll see the following areas:
STAGE (near the top right corner)
STAGE PALETTE (bottom right)
SPRITE PALETTE (to the right of the Stage Palette)
BLOCK PALETTE (in the left)
SCRIPTING AREA (in the center)
MENUBAR (at the top)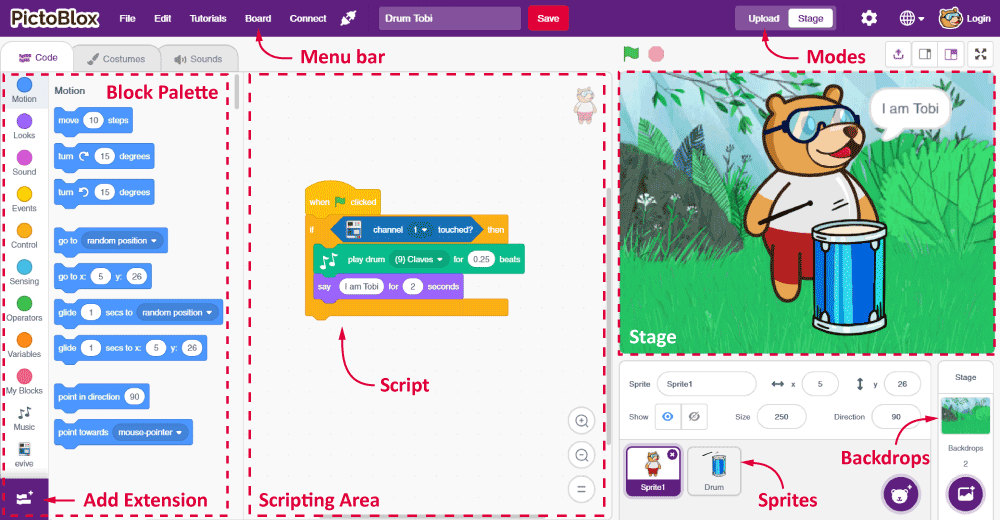 Let's have a look at them one by one along with other concepts as well.