This course is a beginners' course on electronics that teaches the basics of electronics with a learning by doing approach.
This course is a part of STEMpedia Starter Package, an all-in-one interactive platform.
We are launching the Starter Package soon!
Early buyer will get 40% discount at the time of launch!
Today, children around the world have access to laptops, desktops, and smartphones. Knowing that future is becoming synonymous with technology, it is important that our young minds become active consumers, and contribute to technology in the right manner, instead of staying mere passive users.
This course, first in the series entitled The STEM Safari, will take children on an exciting journey through the world of electronics. It will efficiently guide them through the basics step by step, making them capable of building simple circuits by the time it gets over.
For taking this course, it is a must to have (apart from enthusiasm):
If you don't have them, you can get them here.
This course is for all young minds who love technology and want to learn how gadgets around them work.
The three pillars of  electronics i.e. Voltage, Current, and Resistance

What is an electronics circuit

What are analog and digital signals, and how to control them

Types of actuators (electrical actuators in detail)

What are sensors and how do they work

DIY Projects with concurrent learning thus endorsing STEM education

Possible to access, and complete the course at your own speed

24x7 online access, friendly classroom-like interface

A token of achievement, and ecouragement for further learning

Actively engaging assignments to make sure whatever that is gained isn't lost

Online platform for asking, discussing, sharing, and debating ideas and projects
Get a Verified Certificate to highlight the knowledge and skills you gained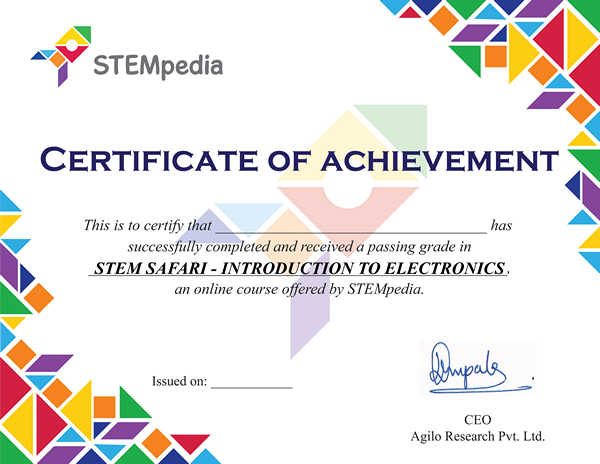 We are launching the course with STEMpedia Starter Package
evive Starter Kit | Programming Software | Project-Making App | Premium Online Courses

YOU'RE NOT GOING TO WANT TO MISS OUT ON THIS!
Share this course with Friends